Aboriginal Identity: A Perspective on Hegemony and the Implications for Canadian Citizenship
Keywords:
Aboriginal identity, hegemony, postcolonial, transcultural, citizenship
Abstract
National identity can be a difficult concept to define in Canada, a difficulty that may be particularly prevalent for Canada's Aboriginal people.  Identity, whether national or ethno-cultural, may be problematic to conceptualize for Aboriginal people because of dominant post-colonial influences that are reflected in everyday life.  Identity, an individual's collective understanding of themselves as a unique, separate entity is frequently associated with ethnic and racial affirmations of distinctness.  Consequently, Canada's national identity may be fragmented by its various ethnic and racial groups.  Canada's Aboriginal people, who have been impacted by a history of European influence through colonization, have consequently struggled with the notion of Canadian identity, a struggle that is prevalent in the field of education.  The following will be an exploration of the issues associated with Canadian identity, and how Aboriginal identity relates to that conception of citizenship development for Aboriginal students in Canadian schools.  To support this exploration, this article will explore: (a) identity development in a postcolonial and transcultural society, (b) identity negotiation in contemporary Canadian society, and (c) the implications for citizenship development in Canadian education.
Keywords: Aboriginal identity; hegemony; postcolonial; transcultural; citizenship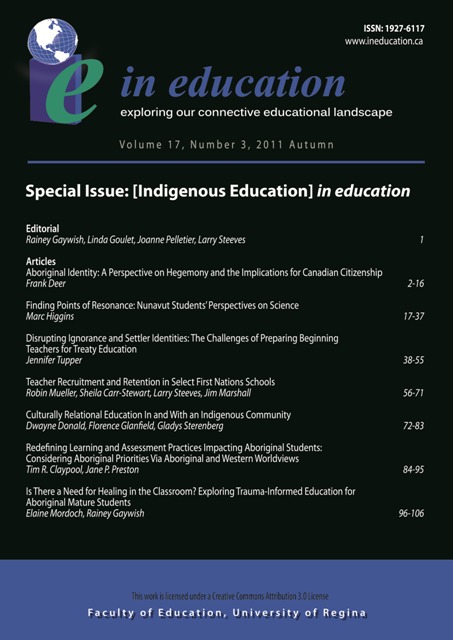 Additional Files
License
Authors who publish with this journal agree to the following terms:
Authors retain copyright and grant the journal right of first publication with the work simultaneously licensed under a Creative Commons Attribution License that allows others to share the work with an acknowledgement of the work's authorship and initial publication in this journal.
Authors are able to enter into separate, additional contractual arrangements for the non-exclusive distribution of the journal's published version of the work (e.g., post it to an institutional repository or publish it in a book), with an acknowledgement of its initial publication in this journal.
Authors are permitted and encouraged to post their work online (e.g., in institutional repositories or on their website) prior to and during the submission process, as it can lead to productive exchanges, as well as earlier and greater citation of published work (See The Effect of Open Access).