A Vision Towards Indigenous Education Sovereignty in Northwestern Ontario
Abstract
To support the calls for Indigenous education sovereignty by the National Indian Brotherhood (1972) and the Assembly of First Nations, (1988), in this paper we explore Indigenous education as envisioned by six educators and knowledge holders in northwestern Ontario. Educators from six different schools and programs who took part in a national project called the National Centre for Collaboration in Indigenous education shared their descriptions and visions of Indigenous education. Findings reveal Indigenous pedagogies that align with Lee and McCarty's (2017) theoretical framework of culturally sustaining and revitalizing pedagogies to promote and support Indigenous education sovereignty. Their visions include pedagogies grounded in the need for equitable education; Indigenous-led instruction for land-based teachings, traditional practices and languages; and, community-based accountabilities. Their visions illustrate that a deeper understanding of the localized and nationhood contexts of Indigenous sovereignty over education is missing and needed in the ongoing movement towards educational sovereignty.
Keywords: Indigenous sovereignty; Indigenous education; culturally sustaining and revitalizing pedagogies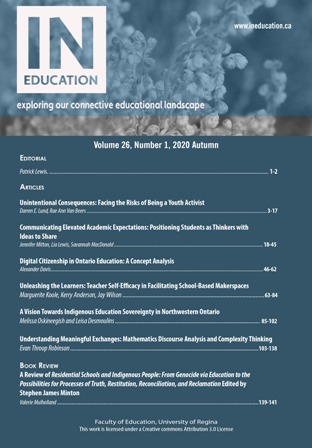 License
Authors who publish with this journal agree to the following terms:
Authors retain copyright and grant the journal right of first publication with the work simultaneously licensed under a Creative Commons Attribution License that allows others to share the work with an acknowledgement of the work's authorship and initial publication in this journal.
Authors are able to enter into separate, additional contractual arrangements for the non-exclusive distribution of the journal's published version of the work (e.g., post it to an institutional repository or publish it in a book), with an acknowledgement of its initial publication in this journal.
Authors are permitted and encouraged to post their work online (e.g., in institutional repositories or on their website) prior to and during the submission process, as it can lead to productive exchanges, as well as earlier and greater citation of published work (See The Effect of Open Access).