Teaching for Civil Society in Finland: A Canadian Perspective on Finnish Educators' Reflections
Keywords:
K-12, Civil Society, Race, Racism, Finland, Neoliberalism, Immigration
Abstract
This article describes a study that took place in Helsinki, Finland in late 2015. A Canadian education professor conducted individual interviews with Finnish educators: six practicing teachers in Helsinki schools, two education professors at the University of Helsinki, and the advisor to the president of Finland's teachers' union. Although all five Nordic countries are known to support the social welfare state, Finland was chosen because it is considered to be the most economically left. The study is an exploration of how Finnish educators consider their role and the role of the school regarding civil society and the commons in Finland. The actual research question for the study was, "How do Finnish educators think about the school's role in supporting the commons and in fostering social cohesion with immigration?" The nine participants were unanimous in their support of the commons and Finland's generous social welfare state, apparently the result of a collectivist mentality in Finnish society. However, there appears to be growing social, economic, and political discrimination for immigrants and refugees who look different from White Finns. The six teacher-participants expressed uncertainty around how best to deal with these tensions, and were committed to attempting neutrality in their teaching of these social problems, or perhaps even ignoring them altogether. Despite the small sample set, I believe it represents a cross section of views of educators in contemporary Finland. Recent studies mentioned in the literature review support this position. Some comparisons with similar studies in Canada are briefly mentioned.
            Keywords: teaching for social justice; comparative education; Finnish education; controversial issues; Nordic social democracy.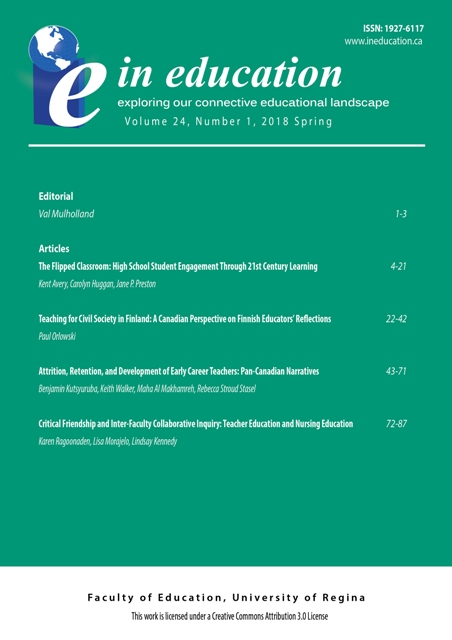 License
Authors who publish with this journal agree to the following terms:
Authors retain copyright and grant the journal right of first publication with the work simultaneously licensed under a Creative Commons Attribution License that allows others to share the work with an acknowledgement of the work's authorship and initial publication in this journal.
Authors are able to enter into separate, additional contractual arrangements for the non-exclusive distribution of the journal's published version of the work (e.g., post it to an institutional repository or publish it in a book), with an acknowledgement of its initial publication in this journal.
Authors are permitted and encouraged to post their work online (e.g., in institutional repositories or on their website) prior to and during the submission process, as it can lead to productive exchanges, as well as earlier and greater citation of published work (See The Effect of Open Access).