The Light to the Left: Conceptions of Social Justice Among Christian Social Studies Teachers
Keywords:
social studies education, teaching for social justice, qualitative research, teacher beliefs, Christian teaching
Abstract
This article describes a study that took place in Saskatchewan, Canada, during 2013-2014. Ten practicing high school social studies teachers who self-identified as Christian answered an unsolicited invitation to participate in a qualitative study about the ways in which they think about social justice. Almost evenly split between Catholic and Protestant, female and male, and urban and rural, most participants were very progressive in their thinking about important economic and social issues. For example, all supported paying taxes and the social welfare state, and almost all supported gay rights and feminism. As well, an important emergent theme arose: The majority spoke about breaking from the teachings of their church if the teachings did not fit with contemporary society. All of them claimed that their faith influenced their thinking about social justice. The study challenges some secular notions about the values held by Christian social studies teachers. Situated in Canada, the study challenges American research findings about the political ideology and values of Christian social studies teachers.

            Keywords: social studies education; teaching for social justice; controversial issues; teacher beliefs; Christian teaching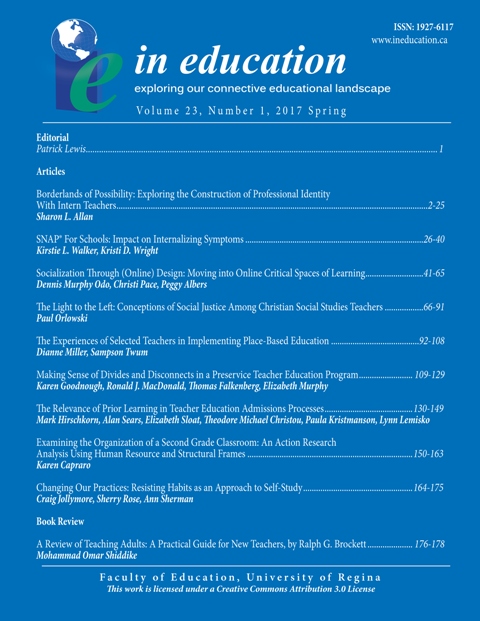 License
Authors who publish with this journal agree to the following terms:
Authors retain copyright and grant the journal right of first publication with the work simultaneously licensed under a Creative Commons Attribution License that allows others to share the work with an acknowledgement of the work's authorship and initial publication in this journal.
Authors are able to enter into separate, additional contractual arrangements for the non-exclusive distribution of the journal's published version of the work (e.g., post it to an institutional repository or publish it in a book), with an acknowledgement of its initial publication in this journal.
Authors are permitted and encouraged to post their work online (e.g., in institutional repositories or on their website) prior to and during the submission process, as it can lead to productive exchanges, as well as earlier and greater citation of published work (See The Effect of Open Access).