Making Sense of Divides and Disconnects in a Preservice Teacher Education Program
Keywords:
Cultural Historical Activity Theory, contradictions, teacher education and preparation, theory, practice
Abstract
This study's purpose was to make sense of divides and disconnects in a teacher education program that included university-based courses combined with school-based field experiences. The study took place in Québec, Canada, which has the longest practicum of all provinces and programs designed to develop professional autonomy and competency. Data collection relied on documents, interviews, surveys, and focus groups with 44 preservice teachers along with field supervisors and instructors. Analysis relied on cultural historical activity theory and its principle of contradictions. Findings revealed that contradictions resulted in unintended and unfavourable outcomes such as teacher candidates feeling unprepared and untouched by the program. Resolution of contradictions may be realized through expansion of the division of labour to include more peer and self-assessment and through expansion of tools to support boundary crossing between theory, practice, schools, and university.
            Keywords: Preservice teacher education; cultural historical activity theory; contradictions; school-university partnerships; divides and disconnects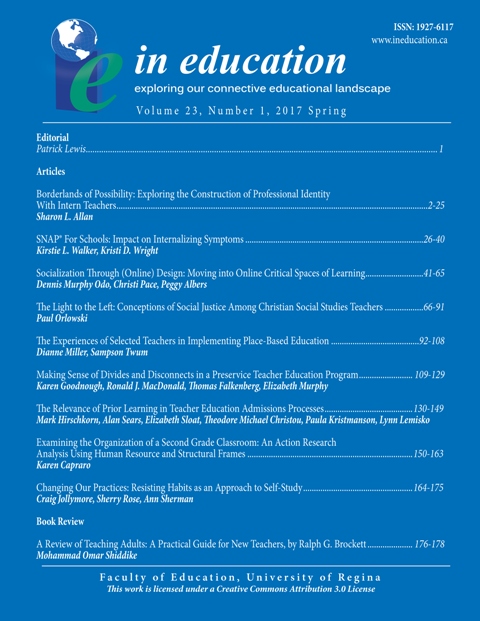 License
Authors who publish with this journal agree to the following terms:
Authors retain copyright and grant the journal right of first publication with the work simultaneously licensed under a Creative Commons Attribution License that allows others to share the work with an acknowledgement of the work's authorship and initial publication in this journal.
Authors are able to enter into separate, additional contractual arrangements for the non-exclusive distribution of the journal's published version of the work (e.g., post it to an institutional repository or publish it in a book), with an acknowledgement of its initial publication in this journal.
Authors are permitted and encouraged to post their work online (e.g., in institutional repositories or on their website) prior to and during the submission process, as it can lead to productive exchanges, as well as earlier and greater citation of published work (See The Effect of Open Access).