The Relevance of Prior Learning in Teacher Education Admissions Processes
Keywords:
teacher education, prior learning, pedagogical content knowledge, cognitive frames, constructivism
Abstract
In this paper, we argue that teacher education admissions processes would benefit from attending more to prospective teacher candidates' cognitive frames. We begin with the introduction of a three-stage heuristic for describing teacher education. We then review the literature about constructivist notions of prior learning and teacher education program admissions processes. These processes, we argue, fail to adequately account for candidates' preconceptions about teaching and learning, which affect their beliefs and understanding. Virtually none of the admissions processes we examined explicitly attempts to map the cognitive frames of applicants to uncover the structure of their ideas about teaching and learning. Teacher education institutions might best concentrate upon candidates' cognitive frames within two core areas: subject area content knowledge and pedagogical knowledge. These two areas have the greatest potential to influence candidates' future cognitive frameworks, understandings, and points of reference.
            Keywords: teacher education admissions processes; identifying cognitive frames; subject area content knowledge; pedagogical knowledge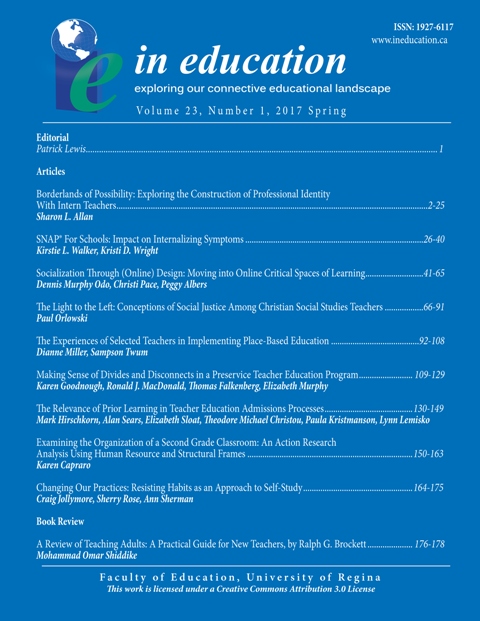 License
Authors who publish with this journal agree to the following terms:
Authors retain copyright and grant the journal right of first publication with the work simultaneously licensed under a Creative Commons Attribution License that allows others to share the work with an acknowledgement of the work's authorship and initial publication in this journal.
Authors are able to enter into separate, additional contractual arrangements for the non-exclusive distribution of the journal's published version of the work (e.g., post it to an institutional repository or publish it in a book), with an acknowledgement of its initial publication in this journal.
Authors are permitted and encouraged to post their work online (e.g., in institutional repositories or on their website) prior to and during the submission process, as it can lead to productive exchanges, as well as earlier and greater citation of published work (See The Effect of Open Access).