Inclusive Classrooms: A Confessional Tale on a Métissage
Abstract
This article is written as a confessional tale of the authors' experience of conducting a métissage research process on inclusive classrooms within a course as part of a graduate program. Amanda, the lead author, is a queer elementary school teacher, researching the 2SLGBTQIA+ community within local classrooms and schools, and the Tim is their instructor in a research methods course. Together, we worked to explore the métissage methodology through a confessional tale to unpack the process and to frame the performance piece shared as an anonymously read métissage based on three participants' voices: (a) a teacher and parent of a child with a disability, (b) an Indigenous teacher and (c) the lead author's voice as a queer teacher.
As Kluge (2001) explained, confessional tales represent the researcher's personal account through the reflexive process that they experienced in the beginning, during, and at the end of the research process. Confessional tale is the postscript that follows the research progression in a highly personal diary-like format (Van Maanen, 1988). A métissage is an arts-based research methodology where a series of narrative writings by single authors are woven together to create a larger, thematic text, with the intent of "transformation from the inside out" (Worley, 2006, p. 518). In this article, therefore, we offer insights from Amanda's reflective comments, with their critical friend Tim (course instructor), on both the métissage process and their commitment to use research to create safer spaces for all through promoting participatory lived experience insights on inclusivity.
Keywords: confessional, métissage, inclusion, queer, LGBTQ, Indigenous, disability, performance, participatory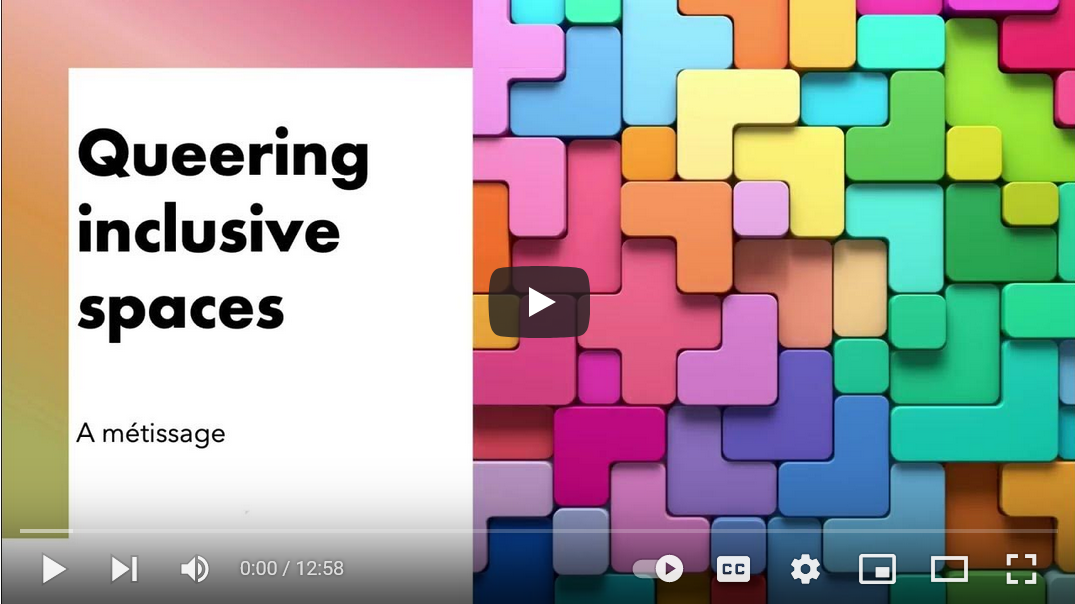 License
Copyright (c) 2023 Amanda Culver, Tim Hopper
This work is licensed under a Creative Commons Attribution-NonCommercial-NoDerivatives 3.0 Unported License.
Authors who publish with this journal agree to the following terms:
Authors retain copyright and grant the journal right of first publication with the work simultaneously licensed under a Creative Commons Attribution License that allows others to share the work with an acknowledgement of the work's authorship and initial publication in this journal.
Authors are able to enter into separate, additional contractual arrangements for the non-exclusive distribution of the journal's published version of the work (e.g., post it to an institutional repository or publish it in a book), with an acknowledgement of its initial publication in this journal.
Authors are permitted and encouraged to post their work online (e.g., in institutional repositories or on their website) prior to and during the submission process, as it can lead to productive exchanges, as well as earlier and greater citation of published work (See The Effect of Open Access).