Doing Twitter, Postdevelopmental Pedagogies, and Digital Activism
Abstract
In this article, we interrogate how we might manifest early childhood education's Twitter purview as a space for thinking with postdevelopmental pedagogies. Accordingly, we pay attention to the ethics and politics that shape our Twitter practices, asking how these activate postdevelopmental provocations. In this sense, postdevelopmental pedagogies refer to processes and questions that interrupt the assumptions, objectivity, universalism, and technocratic instrumentalism of child development that so often pervade ECE practice, including much of the #earlychildhoodeducation content. Anchored in the two Twitter accounts that we coordinate, we outline four practices for doing Twitter with postdevelopmental provocations: counterpublics, counter-narratives, and counter-memory, collectivity, and digital feminist activism. We then work through two examples, showing how we draw these practices into our decision making as we craft tweets to activate postdevelopmental questions. We conclude by offering forward questions that educators, pedagogists, researchers, and activists might carry into their own Twitter practices.
Keywords: early childhood education, Twitter, postdevelopmental pedagogies, digital activism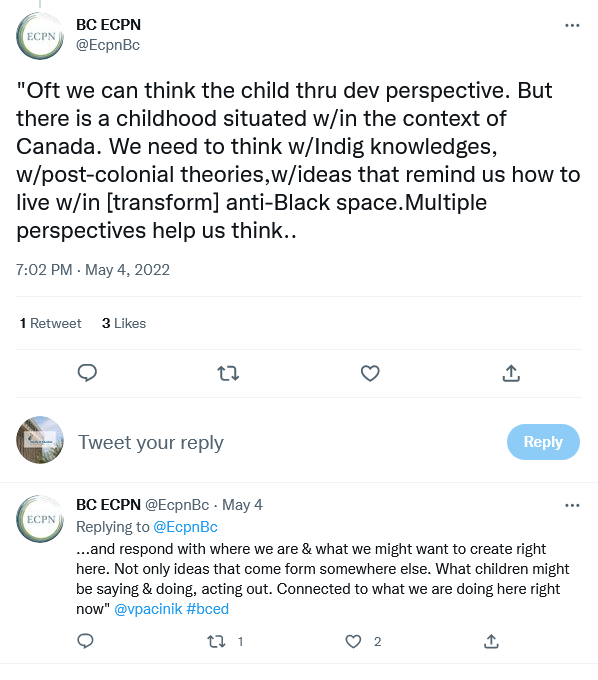 License
Copyright (c) 2022 Nicole Land, Narda Nelson
This work is licensed under a Creative Commons Attribution-NonCommercial-NoDerivatives 3.0 Unported License.
Authors who publish with this journal agree to the following terms:
Authors retain copyright and grant the journal right of first publication with the work simultaneously licensed under a Creative Commons Attribution License that allows others to share the work with an acknowledgement of the work's authorship and initial publication in this journal.
Authors are able to enter into separate, additional contractual arrangements for the non-exclusive distribution of the journal's published version of the work (e.g., post it to an institutional repository or publish it in a book), with an acknowledgement of its initial publication in this journal.
Authors are permitted and encouraged to post their work online (e.g., in institutional repositories or on their website) prior to and during the submission process, as it can lead to productive exchanges, as well as earlier and greater citation of published work (See The Effect of Open Access).