Borderlands of Possibility: Exploring the Construction of Professional Identity With Intern Teachers
Keywords:
professional identity, borderland space, intern teachers, field experience, interpretive case study
Abstract
Students enrolled in Bachelor of Education degree programs engage in academic study and field experiences that both validate and challenge their existing understandings of who they are and who they are becoming: their professional identity. This interpretive case study explored the ways in which four intern teachers constructed professional understandings during the 15 weeks of their culminating field experience: a borderland space. Ecologically defined as an ecotone, this time in between—of being a student and becoming a teacher—is a zone of transition, a crossroads of being and becoming. Using a series of conversational interviews where the researcher and the participants explored the experience of living on the borderland, this study revealed the challenges of constructing a professional identity as well as the ways in which these intern teachers gradually assumed the subject position: teacher. Four essential aspects of this experience were distilled from the findings of this inquiry and arranged into a conceptual framework to assist teacher educators as they craft curriculum capable of engaging student teachers in the consideration of who they are becoming as teachers. By contributing to our growing understanding of the ways in which preservice teachers view themselves as emerging professionals, this inquiry suggests deeper investigation of the mentor-mentee relationship is needed in order to better support student teachers on the borderlands of their final field experience.
            Keywords: professional identity; borderland space; intern teachers; field experience; interpretive case study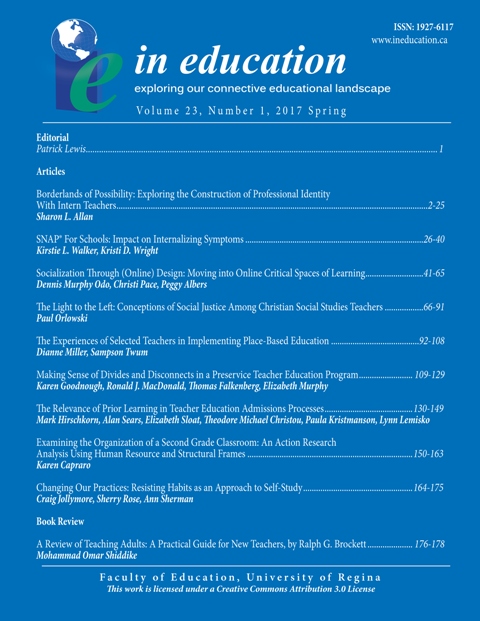 License
Authors who publish with this journal agree to the following terms:
Authors retain copyright and grant the journal right of first publication with the work simultaneously licensed under a Creative Commons Attribution License that allows others to share the work with an acknowledgement of the work's authorship and initial publication in this journal.
Authors are able to enter into separate, additional contractual arrangements for the non-exclusive distribution of the journal's published version of the work (e.g., post it to an institutional repository or publish it in a book), with an acknowledgement of its initial publication in this journal.
Authors are permitted and encouraged to post their work online (e.g., in institutional repositories or on their website) prior to and during the submission process, as it can lead to productive exchanges, as well as earlier and greater citation of published work (See The Effect of Open Access).