"The Receiver No Longer Holds the Sound": Parents, Poetry, and the Voices We Create in the World
Keywords:
poetic inquiry, duoethnography, parents
Abstract
In this article, we explore how poetic inquiry informed by duoethnography enables us to know our parents better and to reflect on our relationships with them after their deaths. We are interested in how this process of inquiry deepens our thinking about the nature of research and writing as well as about teaching and community work. Through the lens of poetry, we have been able to see beyond the received family histories of whom our parents were and to fashion a more layered and nuanced picture not only of them, but also of the social forces that shaped them, and in turn shaped us as researchers and social activists. Sources for our work include Heather's father's poetry and Gisela's poems, which draw from interviews with her mother and anecdotes her mother told her as she was growing up.
Keywords: poetic inquiry; duoethnography; parents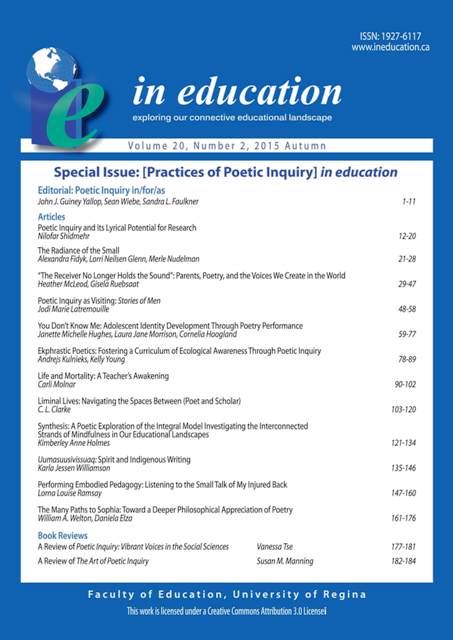 License
Authors who publish with this journal agree to the following terms:
Authors retain copyright and grant the journal right of first publication with the work simultaneously licensed under a Creative Commons Attribution License that allows others to share the work with an acknowledgement of the work's authorship and initial publication in this journal.
Authors are able to enter into separate, additional contractual arrangements for the non-exclusive distribution of the journal's published version of the work (e.g., post it to an institutional repository or publish it in a book), with an acknowledgement of its initial publication in this journal.
Authors are permitted and encouraged to post their work online (e.g., in institutional repositories or on their website) prior to and during the submission process, as it can lead to productive exchanges, as well as earlier and greater citation of published work (See The Effect of Open Access).