Synthesis: A Poetic Exploration of the Integral Model Investigating the Interconnected Strands of Mindfulness in Our Educational Landscapes
Keywords:
education, narrative inquiry, qualitative research
Abstract
As a researcher, I am seeking a mode of inquiry that would allow for a reflection on mindfulness and the role it plays in curriculum and learning. Needing to merge my personal voice with the diverse educational landscape, I found that poetic storytelling allowed me to "present possibilities for understanding the complex, mysterious, even ineffable experiences that comprise human living" (Chambers, Hasbe-Ludt, Leggo, & Sinner, 2012, p. xx). Using first-person auto-ethnographical narrative as a research methodology and the Integral Model as a theoretical framework (Wilber, 2000, 2006, Wilber, Patten, Leonard, & Morelli, 2008), the interconnected strands of mindfulness are synthesized within the four quadrants of the model. Self, Science, Storytelling, and Systems are components of mindfulness that together formulate a holistic understanding as "integral theory weaves together the significant insights from all major human disciplines of knowledge, including natural and social science as well as the arts and the humanities" (Visser, 2003).

Keywords: education; narrative inquiry; qualitative research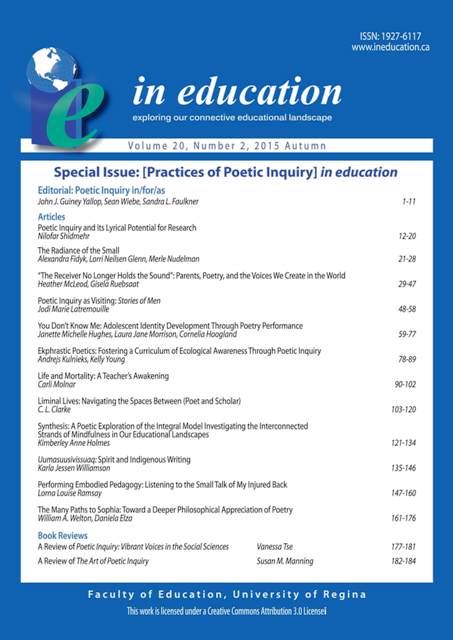 License
Authors who publish with this journal agree to the following terms:
Authors retain copyright and grant the journal right of first publication with the work simultaneously licensed under a Creative Commons Attribution License that allows others to share the work with an acknowledgement of the work's authorship and initial publication in this journal.
Authors are able to enter into separate, additional contractual arrangements for the non-exclusive distribution of the journal's published version of the work (e.g., post it to an institutional repository or publish it in a book), with an acknowledgement of its initial publication in this journal.
Authors are permitted and encouraged to post their work online (e.g., in institutional repositories or on their website) prior to and during the submission process, as it can lead to productive exchanges, as well as earlier and greater citation of published work (See The Effect of Open Access).