Touring Turtle Island: Fostering Leadership Capacity to Support First Nations, Métis, and Inuit Learners
Keywords:
Indigenous Education, Educational Leadership, Educational Administration, Critical Race Theory, Whiteness Theory, Red Pedagogy, Culturally Relevant Pedagogy, Teacher Education
Abstract
This paper reports on findings from a research study that examined the design, delivery, and effects of a graduate level summer institute, the aim of which was to foster the capacity of educational leaders to support First Nations, Métis, and Inuit (FNMI) learners. Our study is conceptually framed using elements of critical race and Whiteness theory, and red pedagogy/culturally relevant pedagogy. We designed the institute and our methods around Kirkness's and Barnhardt's (1991) 4 R's of success in higher education environments: relevance, reciprocity, responsibility, and respect. Data for the study were gathered using a qualitative, inquiry-based methodology, and articulated using Indigenous storywork and story. The primary data sources included online surveys and sharing circles conducted with past students of the course. Findings suggest that the summer institute helped to disrupt colonial assumptions; increase respect for Aboriginal knowledges, values, and experiences; offer relevance to educators who were able to use the learnings of the course in their own professional contexts; affirm the need for reciprocity between schools and FNMI families; and develop educational leaders' sense of responsibility to ensure FNMI learners are supported in the public school system.
     Keywords: Indigenous education; educational leadership; educational administration; critical race theory; Whiteness theory; red pedagogy; culturally relevant pedagogy; teacher education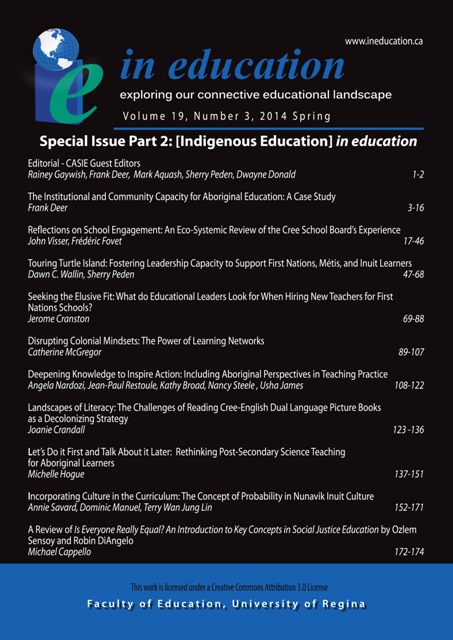 License
Authors who publish with this journal agree to the following terms:
Authors retain copyright and grant the journal right of first publication with the work simultaneously licensed under a Creative Commons Attribution License that allows others to share the work with an acknowledgement of the work's authorship and initial publication in this journal.
Authors are able to enter into separate, additional contractual arrangements for the non-exclusive distribution of the journal's published version of the work (e.g., post it to an institutional repository or publish it in a book), with an acknowledgement of its initial publication in this journal.
Authors are permitted and encouraged to post their work online (e.g., in institutional repositories or on their website) prior to and during the submission process, as it can lead to productive exchanges, as well as earlier and greater citation of published work (See The Effect of Open Access).