Engaging Literacies Through Ecologically Minded Curriculum: Educating Teachers About Indigenous Education Through an Ecojustice Education Framework
Keywords:
education, educational leadership, Indigenous Knowledges, environmental education
Abstract
In this article, we conceptualize curricula through an EcoJustice Education (EJE) framework to educate teachers about Indigenous and environmental education. The primary tasks of EJE are to engage learners in a cultural analysis of the ecological crisis and in the identification of diverse cultural methods that can bring about eco-democratic reforms that emphasize sustainable ways of living. An important method to infuse Indigenous knowledge into curricula is to invite local Elders to share stories that are Indigenous to place. In this paper, however, we consider methods of developing literacies through an engagement with the places within which learners live. We highlight the importance of developing a relationship with food and place, and an understanding about language through an eco-hermeneutic lens (Kulnieks, Longboat, & Young, 2010; 2011). We demonstrate how an aesthetic teaching form, in this case a poem entitled "Remembering Your Work," can help to foster important connections with local places and the cultural origins of food. Asking students to engage with both oral and literary traditions can promote an important dialogue about intergenerational knowledge, and foster the development of their relationships with food and place.

    Keywords: EcoJustice Education; Indigenous teachings; intergenerational knowledge; curriculum; literacies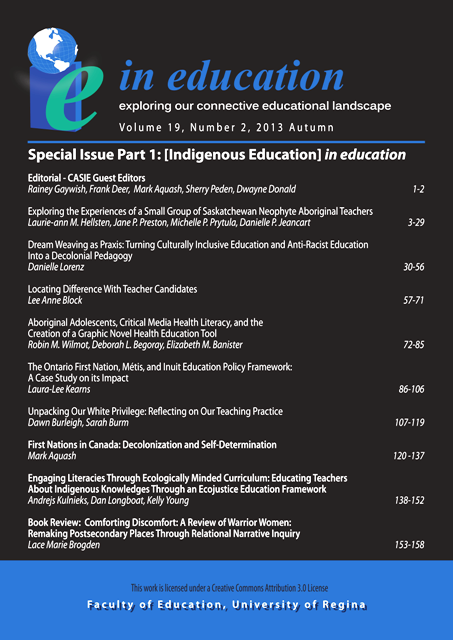 License
Authors who publish with this journal agree to the following terms:
Authors retain copyright and grant the journal right of first publication with the work simultaneously licensed under a Creative Commons Attribution License that allows others to share the work with an acknowledgement of the work's authorship and initial publication in this journal.
Authors are able to enter into separate, additional contractual arrangements for the non-exclusive distribution of the journal's published version of the work (e.g., post it to an institutional repository or publish it in a book), with an acknowledgement of its initial publication in this journal.
Authors are permitted and encouraged to post their work online (e.g., in institutional repositories or on their website) prior to and during the submission process, as it can lead to productive exchanges, as well as earlier and greater citation of published work (See The Effect of Open Access).