Digital Citizenship in Ontario Education: A Concept Analysis
Abstract
Digital citizenship indicates one's place in digitized society; however academics have not established a cohesive understanding about how digital citizenship is characterized. The Ontario Ministry of Education also does not provide a central conceptualization of digital citizenship and instead encourages Ontario school boards to construct and communicate ideas of digital citizenship. Accordingly, Ontario policymakers, educators, and students use differing understandings of digital citizenship, which ultimately impedes educational initiatives and hinders the overall development of the concept. For this paper, therefore, I inquired as to how Ontario public school boards portray digital citizenship. Using concept analysis, I examined digital citizenship documents from the 10 largest English Ontario public school boards. The results suggest that digital citizenship is predominately characterized by responsible and ethical technology use. I conclude with a discussion about how this representation relates to democratic citizenship more broadly and the implications this may have on youth civic engagement.
Keywords: digital citizenship; technologies and education; democracy and education; democratic citizenship; concept analysis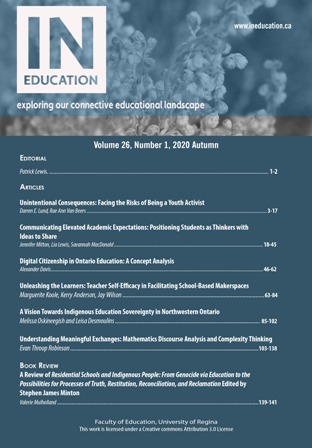 Additional Files
License
Authors who publish with this journal agree to the following terms:
Authors retain copyright and grant the journal right of first publication with the work simultaneously licensed under a Creative Commons Attribution License that allows others to share the work with an acknowledgement of the work's authorship and initial publication in this journal.
Authors are able to enter into separate, additional contractual arrangements for the non-exclusive distribution of the journal's published version of the work (e.g., post it to an institutional repository or publish it in a book), with an acknowledgement of its initial publication in this journal.
Authors are permitted and encouraged to post their work online (e.g., in institutional repositories or on their website) prior to and during the submission process, as it can lead to productive exchanges, as well as earlier and greater citation of published work (See The Effect of Open Access).