Unleashing the Learners: Teacher Self-Efficacy in Facilitating School-Based Makerspaces
Abstract
This qualitative research project explored the key characteristics, attitudes, and experiences of makerspace facilitators in Saskatchewan. The aim was to gather knowledge and wisdom from early adopters of makerspace from a variety of contexts ranging from tinkerspaces to increasingly popular school-based spaces in order to inform early and career-educators of the skills and attitudes conducive to creating and leading dynamic activity spaces. The questions for the semi-structured interviews were based on Bandura's (1977; 1997) self-efficacy expectations: performance accomplishments, vicarious experience, verbal persuasion, and emotional arousal. The findings align with those of other studies in that they point towards key areas of experience: the value of productive failure, relinquishing control, and modes of support. We conclude that there is a need to help preservice and early career educators to become prepared and confident makerspace facilitators. To this end, we offer four suggestions for new makerspace facilitators: aim towards unleashing, allow others to be the experts and leaders, celebrate success and failure, and  openly seek and offer support.
Keywords: makerspace, self-efficacy, motivation, early career educators, productive failure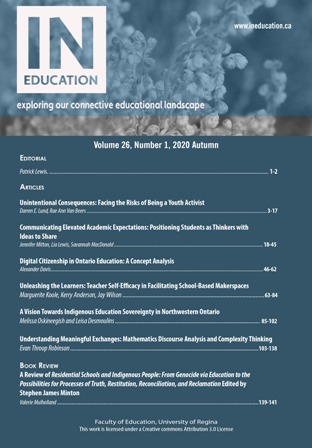 License
Authors who publish with this journal agree to the following terms:
Authors retain copyright and grant the journal right of first publication with the work simultaneously licensed under a Creative Commons Attribution License that allows others to share the work with an acknowledgement of the work's authorship and initial publication in this journal.
Authors are able to enter into separate, additional contractual arrangements for the non-exclusive distribution of the journal's published version of the work (e.g., post it to an institutional repository or publish it in a book), with an acknowledgement of its initial publication in this journal.
Authors are permitted and encouraged to post their work online (e.g., in institutional repositories or on their website) prior to and during the submission process, as it can lead to productive exchanges, as well as earlier and greater citation of published work (See The Effect of Open Access).