Nahkawēwin Revitalization: A Mini Language Nest Created With Hope and Determination.
Abstract
This research based on my master's thesis explores Nahkawēwin language revitalization. This study draws on the language nest model, which first originated with Maori grandmothers and their grandchildren in the 1970s. In this study, my mother and I created what I refer to as a "mini" language nest in both of our homes to teach my children Nahkawēwin in a holistic manner. I call this a "mini" language nest because our nest only involved myself, my mother, and my children, when other language nests around the world have had multiple grandmothers and children who are participants of the language nest. This article aims to show how this approach to language nests can be used to revitalize or revive a language using intergeneration learning and teaching. In this study, I reflect on the different challenges one may face while creating a mini language nest, and how one might overcome these challenges through different language strategies, frameworks, and teaching tools. I do not wish to present language nests as a foolproof solution; rather, I share the reality of how one thought or intention can change the outcome of language learning in a positive manner. The language nest did not only teach my children their language, it brought us together with compassion, enthusiasm, and hope.
Keywords: Indigenous, language, revitalization, revival, language nest, linguistic landscape, intergenerational learning.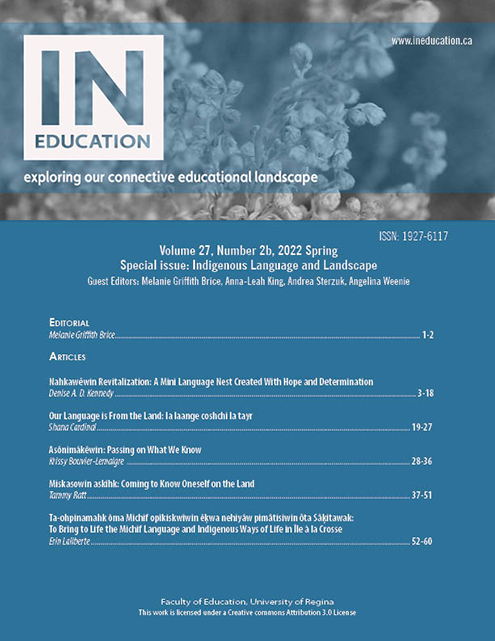 License
Copyright (c) 2022 Denise Kennedy
This work is licensed under a Creative Commons Attribution-NonCommercial-NoDerivatives 3.0 Unported License.
Authors who publish with this journal agree to the following terms:
Authors retain copyright and grant the journal right of first publication with the work simultaneously licensed under a Creative Commons Attribution License that allows others to share the work with an acknowledgement of the work's authorship and initial publication in this journal.
Authors are able to enter into separate, additional contractual arrangements for the non-exclusive distribution of the journal's published version of the work (e.g., post it to an institutional repository or publish it in a book), with an acknowledgement of its initial publication in this journal.
Authors are permitted and encouraged to post their work online (e.g., in institutional repositories or on their website) prior to and during the submission process, as it can lead to productive exchanges, as well as earlier and greater citation of published work (See The Effect of Open Access).