Our Language is From the Land: niinyanaan nutr piyii la laange
Abstract
This article documents how my cultural identity as a Métis woman is inherently linked to Michif words and phrases that originate from the land. Through the Michif language I continue to situate myself directly on the Saskatchewan prairie landscape. And it is because of the collective efforts of Michif speakers and Métis Old Ones who work tirelessly toward the rejuvenation of Michif language that I have been led toward working within the healing landscape which I now occupy.
            Keywords: Métis land claim, Métis rights, Métis self-government, Métis Nation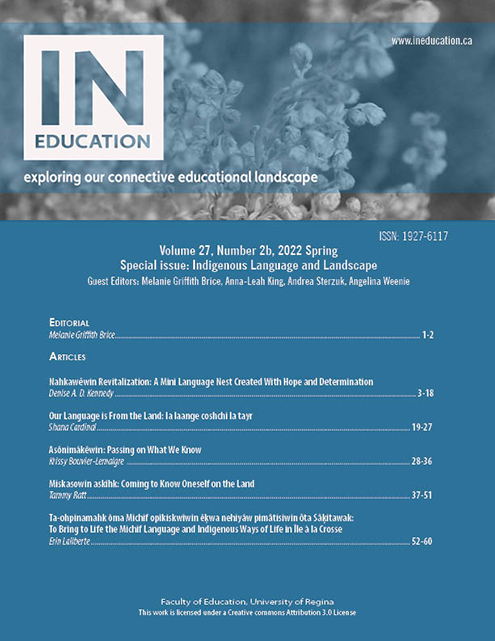 License
Copyright (c) 2022 Shana Cardinal
This work is licensed under a Creative Commons Attribution-NonCommercial-NoDerivatives 3.0 Unported License.
Authors who publish with this journal agree to the following terms:
Authors retain copyright and grant the journal right of first publication with the work simultaneously licensed under a Creative Commons Attribution License that allows others to share the work with an acknowledgement of the work's authorship and initial publication in this journal.
Authors are able to enter into separate, additional contractual arrangements for the non-exclusive distribution of the journal's published version of the work (e.g., post it to an institutional repository or publish it in a book), with an acknowledgement of its initial publication in this journal.
Authors are permitted and encouraged to post their work online (e.g., in institutional repositories or on their website) prior to and during the submission process, as it can lead to productive exchanges, as well as earlier and greater citation of published work (See The Effect of Open Access).