Miskasowin askîhk: Coming to Know Oneself on the Land
Abstract
miskâsowin askîhk is a nêhiyawêwin word that translates roughly "as finding oneself on the land." Throughout this paper, I aim to tell a story about the journey I have taken on the land, with the language. The paper also addresses a process of coming to find myself throughout these experiences and relationships with land and language. Through my stories on the land, I have learned that I belong to the land and that the land teaches me. The article also shares what I have learned from Elders, Knowledge Keepers and literature. Namely, learning language on the land, with the land's resources, is an effective way to revitalize language and reclaim Indigenous identity in a balanced way. I finish this paper with the description of a project that I would like to research further. The project involves hand making beaded leather mitts while learning to speak nêhiyawêwin. This project is connected to asōnamēkēwin, a word in nêhiyawêwin that means that it is our responsibility to pass on knowledge that we learn. This is another important nêhiyawêwin phrase that guides me on this journey. It is my responsibility and I pass this responsibility onto anybody that I teach, to teach what they learn.
            Keywords: land-based learning, Cree language learning, language revitalization, best practices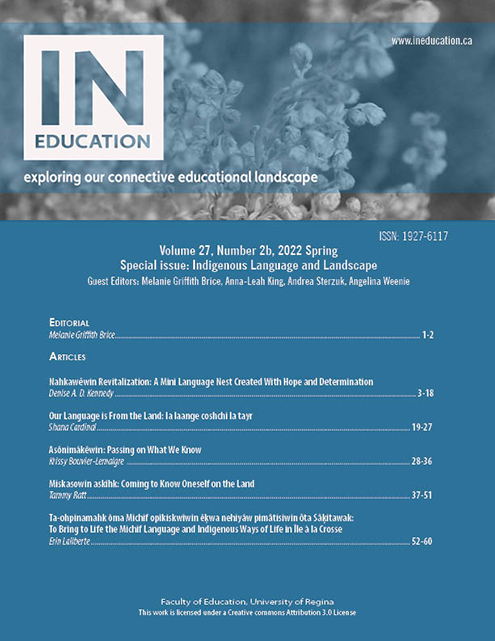 License
Copyright (c) 2022 Tammy Ratt
This work is licensed under a Creative Commons Attribution-NonCommercial-NoDerivatives 3.0 Unported License.
Authors who publish with this journal agree to the following terms:
Authors retain copyright and grant the journal right of first publication with the work simultaneously licensed under a Creative Commons Attribution License that allows others to share the work with an acknowledgement of the work's authorship and initial publication in this journal.
Authors are able to enter into separate, additional contractual arrangements for the non-exclusive distribution of the journal's published version of the work (e.g., post it to an institutional repository or publish it in a book), with an acknowledgement of its initial publication in this journal.
Authors are permitted and encouraged to post their work online (e.g., in institutional repositories or on their website) prior to and during the submission process, as it can lead to productive exchanges, as well as earlier and greater citation of published work (See The Effect of Open Access).