"you were born ugly and youl die ugly too": Cyber-Bullying as Relational Aggression
Abstract
Cyber-bullying increasingly is becoming a problem for students, educators and policy makers.  In this paper, we consider cyber-bullying as a form of relational aggression; that is, behaviour designed to damage, harm or disrupt friendship or interpersonal relationships through covert means.  We draw on the findings from a study of students in Grades 6 through 9, conducted in five schools, in a large ethnically diverse metropolitan region of British Columbia, Canada, to demonstrate the interconnection between cyber-bullying and relational aggression. Consistent with the relational aggression framework, girls were found more likely than boys to participate in these behaviours. We conclude that intervention strategies should consider gender differences and also aim at changing the trajectory of relational aggression to providing relational support and care.
Keywords: cyber-bullying; relational aggression; intervention strategies; gender differences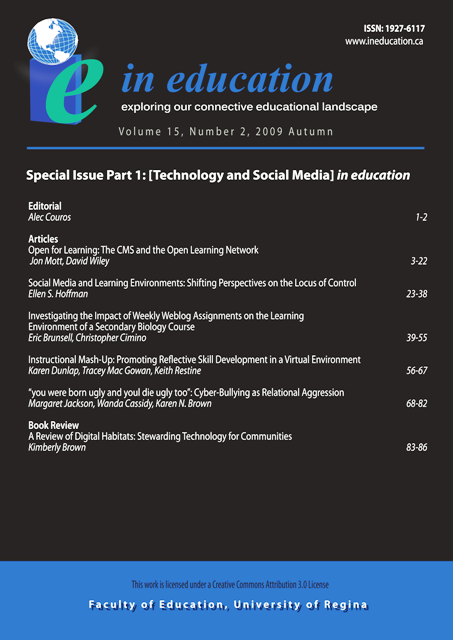 License
Authors who publish with this journal agree to the following terms:
Authors retain copyright and grant the journal right of first publication with the work simultaneously licensed under a Creative Commons Attribution License that allows others to share the work with an acknowledgement of the work's authorship and initial publication in this journal.
Authors are able to enter into separate, additional contractual arrangements for the non-exclusive distribution of the journal's published version of the work (e.g., post it to an institutional repository or publish it in a book), with an acknowledgement of its initial publication in this journal.
Authors are permitted and encouraged to post their work online (e.g., in institutional repositories or on their website) prior to and during the submission process, as it can lead to productive exchanges, as well as earlier and greater citation of published work (See The Effect of Open Access).