Open for Learning: The CMS and the Open Learning Network
Abstract
The course management system (CMS) reinforces the status quo and hinders substantial teaching and learning innovation in higher education. It does so by imposing artificial time limits on learner access to course content and other learners, privileging the role of the instructor at the expense of the learner, and limiting the power of the network effect in the learning process. The open learning network (OLN)—a hybrid of the CMS and the personal learning environment (PLE)—is proposed as an alternative learning technology environment with the potential to leverage the affordances of the Web to dramatically improve learning.
Keywords: course management system; higher education; open learning network; personal learning environment; technology; internet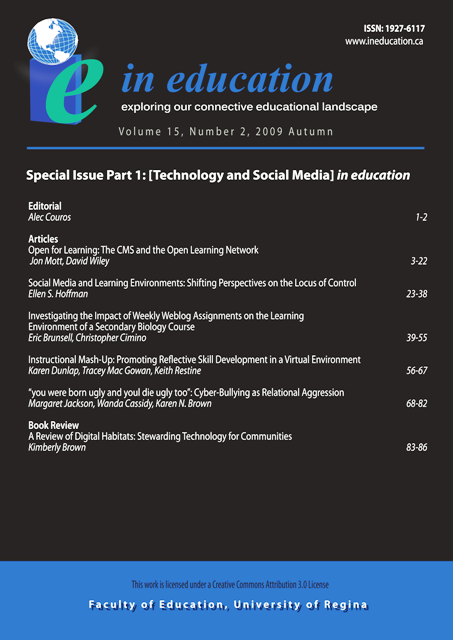 License
Authors who publish with this journal agree to the following terms:
Authors retain copyright and grant the journal right of first publication with the work simultaneously licensed under a Creative Commons Attribution License that allows others to share the work with an acknowledgement of the work's authorship and initial publication in this journal.
Authors are able to enter into separate, additional contractual arrangements for the non-exclusive distribution of the journal's published version of the work (e.g., post it to an institutional repository or publish it in a book), with an acknowledgement of its initial publication in this journal.
Authors are permitted and encouraged to post their work online (e.g., in institutional repositories or on their website) prior to and during the submission process, as it can lead to productive exchanges, as well as earlier and greater citation of published work (See The Effect of Open Access).