Disrupting Colonial Mindsets: The Power of Learning Networks
Catherine McGregor

University of Victoria
Keywords:
networked teacher learning, transformational change, socially just leadership
Abstract
If changes that make a difference to Aboriginal learners are to be effected in public schools, then transformational change is required (Menzies, Archibald, & Smith, 2004). How is transformational change best achieved? In this article, I argue, based on a recently completed study (McGregor, 2013) that teacher learning—particularly among non-Aboriginal teachers—is critical to effecting transformation in how teachers think about Aboriginal learners as well as how they plan and deliver fully inclusive learning opportunities. After outlining a theoretical framework for transformation focused on networked, inquiry-based learning and culturally inclusive practices, I explore how one particular teacher-learning network—the Aboriginal Enhancement Schools Network (AESN) in British Columbia, Canada, offers a powerful example of how teacher learning networks can enable deep and transformational change among participating teachers and leaders. I provide exemplary stories of transformation to illustrate the power of this model to effect changes in teacher beliefs and mindsets about Aboriginal learners and culturally inclusive practices. Following this, I identify several key enabling features of the AESN, including socially just, distributed forms of leadership, relational accountability (Wilson, 2008), and affiliative, catalytic models of implementation, a focus on "new, strong and wise ways" (Halbert & Kaser, 2012, p.11) of learning, and provincial and district resources that support network learning activity. The conclusion highlights implications of this study for school jurisdictions and policy makers.
     Keywords: networked teacher learning; transformational change; socially just leadership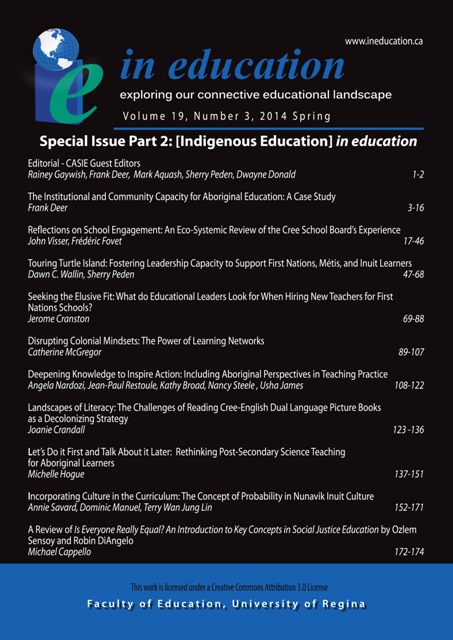 Authors who publish with this journal agree to the following terms:
Authors retain copyright and grant the journal right of first publication with the work simultaneously licensed under a Creative Commons Attribution License that allows others to share the work with an acknowledgement of the work's authorship and initial publication in this journal.
Authors are able to enter into separate, additional contractual arrangements for the non-exclusive distribution of the journal's published version of the work (e.g., post it to an institutional repository or publish it in a book), with an acknowledgement of its initial publication in this journal.
Authors are permitted and encouraged to post their work online (e.g., in institutional repositories or on their website) prior to and during the submission process, as it can lead to productive exchanges, as well as earlier and greater citation of published work (See The Effect of Open Access).